When student ambassadors flock to the University of Bridgeport from their respective corners of Connecticut today, they will have been greeted by cheers reverberating across the green. Some ambassadors will try to avoid joining the growing circle of cheering volunteers and ambassadors. Some will dive right in. And others will join, albeit hesitantly, perhaps clinging to what is today's get-out-jail-free card for many unwanted social situations: the cell phone.
As the seminar continues, the ambassador that tries to stay on their phone rather than overcome their discomfort and get to know the people around them will probably realize something: they feel disengaged and dissatisfied with being at the seminar. This leaves them with two options: they can continue to stay on their phone and, as a result, miss out on what is occurring in their immediate environment. Or, they can slip their phone back into their pocket, take the initial step to engage with those around them, and access all of the opportunities for development of leadership and interpersonal skills that are available to them.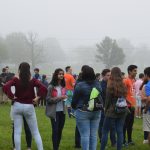 Year after year, we find that most ambassadors choose to engage, and do reap the benefits of giving their energy, attention, and involvement for three short days. This is rather unsurprising, since this cohort represents students who have been recognized for their leadership potential, either by someone else or by themselves in choosing to apply. However, as average hours spent on social media per day are on the rise and young people in particular feel more attached to their personal devices than ever, the powerful grip of technology and social media tightens.
The CT HOBY Leadership Seminar is a rare instance in which a student has the opportunity to not only be completely engaged, but can truly detach oneself from the world of Instagram, Facebook, and other such virtual realities for its duration. While social media is a  component of the seminar, as we do encourage students to take moments to share what they are learning from their experience at the seminar, it is not at the forefront of what the students are doing. CT HOBY seeks to equip students with tools to create change in their communities and beyond. To be an effective leader, to organize a movement, to inspire others to change their world for the better through service or other forms of activism – this requires being present and engaged. Despite the increased difficulty of holding someone's attention in the era of distraction via cell phone, the organizers of this seminar recognize that the leadership potential in youth remains as powerful as always, and that it is a matter of creating a program that can keep students thinking on their feet and learning about themselves in ways that will incentivize engagement.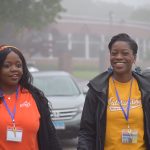 It is with great enthusiasm that volunteers return year after year to guide student ambassadors through this weekend of growth and development, as we see each year the powerful results of showing someone not only their potential, but also ways of implementing their ideas into actions that lead to their desired community impact. We recognize that in the classroom, students are often deprived of the opportunity to be handed a real problem and asked to solve it, with no right answer provided. Like any other muscle, the leadership potential of a student is simply a muscle that must be flexed, and it will become stronger with time. To CT HOBY, this translates into challenging students in a number of ways that they may not be challenged in the classroom. CT HOBY uses this transformative weekend to ask students to work intensively with those of different personalities, backgrounds, and patterns of thought to come up with solutions to pressing issues. Upon completion of their classroom-based education, students will find that this ability to work in a team setting effectively is what will bring them some of their greatest professional and personal successes in life. Those who can leverage their skills and make it fit as a piece of the overall team puzzle will find themselves able to overcome obstacles to reaching their goals, which is what CT HOBY wants ambassadors to gain when they walk away from this experience.
Written by Julia Pietruszka