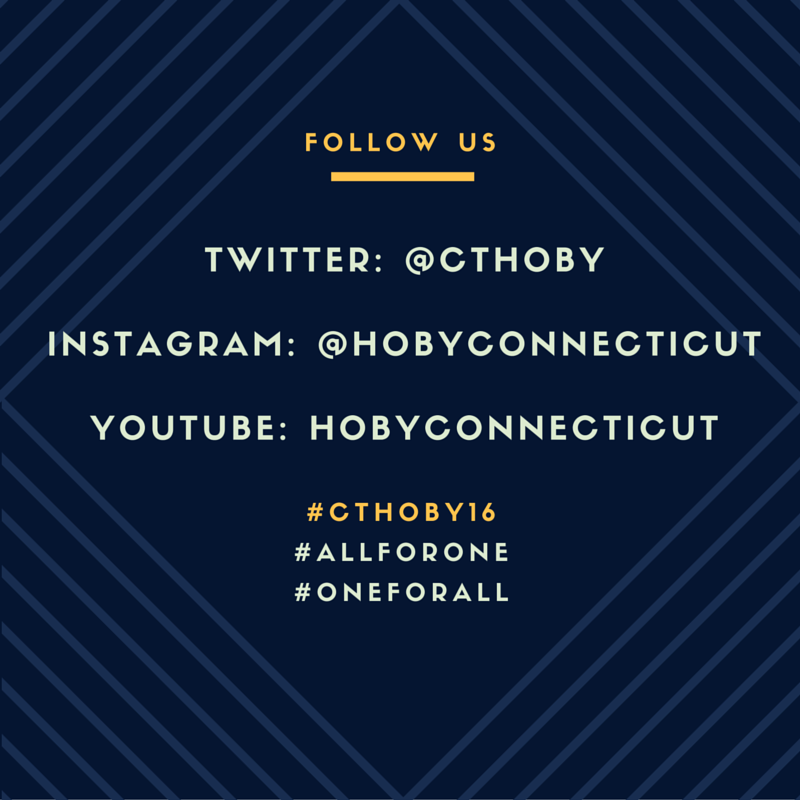 Where will the seminar be held? The seminar will take place at University of Bridgeport, Barnum Hall; 150 Marina Park Circle, Bridgeport, CT 06604
When will the seminar be held? Seminar participants may register any time after 7:00 a.m. but before 8:30 a.m. on June 3rd, 2016. The seminar will begin with Ambassador Orientation on Friday, June 3rd at 9:00 a.m. and conclude with Closing Ceremonies on Sunday, June 5th at 2:30p.m.
Where should I go when I arrive? Enter the facility through the Barnum Hall and proceed to nearest registration table in the lobby. A HOBY volunteer committee member will greet you and check you in.
What kind of program is planned? During your HOBY Leadership Seminar, many dynamic leaders—all volunteers from the fields of business, education, government, and other professions—will address aspects of our changing world and the challenges future leaders will confront. The program will not promote any specific political party, religion, or way of thinking; but is designed to develop critical thinking skills by actively involving participants in discussions and informal debate. During the seminar, you will be asked to undertake a community service project(s) involving at least 100 hours during the year following your seminar, to make a difference in your school, community, place of worship, or other environment where you see a need. The program also includes outstanding speakers, leadership activities, social events, and a special closing ceremony to which your parents are invited.
What are the accommodations like? Participants will be assigned to dorm rooms with two students per room on floors reserved exclusively for the seminar. The University of Bridgeport will not be providing any dorm accommodations; thus students should be expected to bring linens or a sleeping bag as well as their own toiletries. Everyone will receive nutritious breakfasts, lunches, and dinners. Breakfast will not be provided upon arrival on Friday morning, so please eat before arriving at the university.
If necessary, how may I be contacted during the seminar? Parents, friends, and family members are discouraged from calling students during the seminar due to the disruption caused to panels and activities. In case of emergency, your parent(s) or guardian may call Natalie Gaudette at (860)884-0250. The seminar will be chaperoned by qualified adults who will be staying at the facility 24 hours a day.
What should I wear at the seminar? Dress should be considered casual. Weather permitting we will be outside for certain activities, thus students should wear shorts or pants, something to be comfortable in. In addition, they should bring close-toed shoes as we will be walking through campus often during the entire seminar. On Saturday, students will be provided with a HOBY Connecticut T-shirt to wear. On Sunday, students should wear dress up, business casual attire.
What transportation arrangements have been made? You are responsible for your transportation to and from the seminar. If you have last minute transportation problems up to June 2nd, please notify Michael Roy at (860) 933-5243
What if I am unable to attend the seminar? If circumstances arise that prevent you from attending the entire seminar, including overnight, please follow up with a call to Michael Roy at (860) 933-5243.
When should parents arrive to pick up their student? There will be an informational parents meeting on Sunday, June 5th starting at 1:30-2:30pm on the topic of "What is HOBY anyways?" in the Social Room. Following that our closing ceremonies will start at 2:30 until 3:45pm, also in the Social Room, after which you will be permitted to take your student home. If planning on attending the parents meeting we ask that you arrive on campus anywhere from 1:00 to 1:30pm on Sunday. If you are just coming for the closing ceremonies then we ask that you arrive no later than 2:30pm.
Who may I contact should I have additional questions? Additional questions or concerns should be directed to Michael Roy at (860)933-5243 or mroy@cthoby.org
Packing List
Bed linens – sheets (single/twin size), blankets or sleeping bag, pillow cases
Pillow
Bath Towels
Toiletries – shampoo, deodorant, toothbrush, toothpaste, personal care products
Hair dryer
Clothing
Casual, comfortable clothing – shirts, shorts, jeans/long pants, etc.
Nice dress attire for Sunday

Ladies – skirts, dresses or dress pants
Men – dress pants and shirt

Jacket, sweatshirt or other long sleeve shirts
Sturdy walking shoes
Umbrella and/or rain coat
Alarm clock
Small fan (optional)
Small amount of spending money (optional – for HOBY merchandise and other items available during the weekend)
Camera
Water bottle
Prescription Medication – *see notes below*
OTC medication as needed
Any completed pre-seminar forms or room key deposit checks that were not previously returned to us by mail (applies only to late registrants)
Prescription Medication:
If applicable, be sure to bring any prescription medication. Please bring only as much medication as will reasonably be needed during the HOBY event (4 days). Medication must be in its original container as labeled by the pharmacy. A Medication Verification Form for Physicians must be on file for all prescription medications. Please refer to the Policy for Use of Medication During a HOBY Event included in the pre-seminar materials for more information.